News:
...........................
Planet Scrape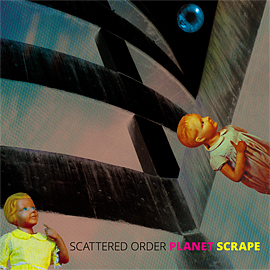 Scattered Order are proud to announce the release of their new album Planet Scrape. This is an album that broods and shimmers in equal parts, sometimes simultaneously.
Available as a CDr and download from scatteredorder.bandcamp
...........................
Downloads


Both Prat Culture Plus (2009) and Adjust the terminology (2010) are now available as downloads through Klanggalerie. CDs are also available.

Scattered Order on Facebook
Welcome to the Institute of Prat Culture
.... built as a sort of reference point for information about Scattered Order, a noise making band from Sydney, Australia, who began their post punk assault on listeners in 1979. Delve into the musical footnotes, relive the heady days of youth before tinnitus set in, or just laugh at the pictures...

A lugholes epic
The whole nail-biting saga is recounted in HISTORY

Noodlers and twiddlers
For detail on Scattered Order's family tree, see PERSONNEL

Wordy pictures
Not the prettiest band, so there's handbills as well, in the SCRAPBOOK