News:
...........................
Victorian tour January 2023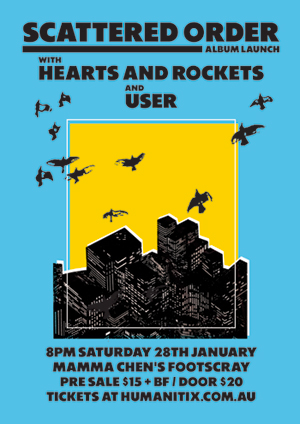 Scattered Order are playing 3 shows in Victoria in January 2023.
First up Wednesday 25th Nighthawks Collingwood supporting Paul Kidney Experience with Din of Inequity opening the night.
Check out the event page here
Get tickets here
Then Thursday 26th Ballarat Trades Hall (3 - 7pm) with Terminal Sound System, No Man's Land, and The Identity Project (aka MGroth).
Check out the event page here
Get tickets here
And Saturday 28th Mamma Chen's Footscray. Album launch with Hearts and Rockets and USER.
Check out the event page here
Get tickets here
This will be HUGE.........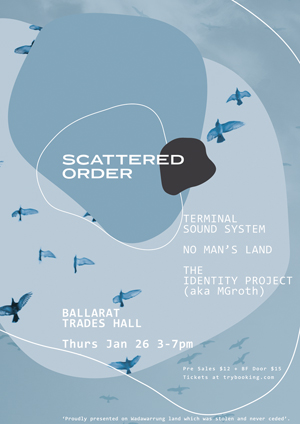 ...........................
Where is the windy gun? - New album
The new album Where is the windy gun? is now out. Now in their 5th decade Mitchell Jones, Michael Tee and Shane Fahey return with the follow up to "Everything happened in the beginning". Recorded remotely during the 2021 Covid lockdown this sees the band continuing their quest for human/machine bliss.
Available on 170gram vinyl with lyric sheet insert designed by Cameron Baird and digital download
Check it out here bandcamp
...........................

Scattered Order on Facebook
Scattered Order on bandcamp
Welcome to the Institute of Prat Culture
.... built as a sort of reference point for information about Scattered Order, a noise making band from Sydney, Australia, who began their post punk assault on listeners in 1979. Delve into the musical footnotes, relive the heady days of youth before tinnitus set in, or just laugh at the pictures...

A lugholes epic
The whole nail-biting saga is recounted in HISTORY

Noodlers and twiddlers
For detail on Scattered Order's family tree, see PERSONNEL

Wordy pictures
Not the prettiest band, so there's handbills as well, in the SCRAPBOOK