A mildly biased, official revisionist history of Scattered Order
Boxing day, slow and drowsy. What to do? Start a band, pool all the instruments and electrickery you can find, stick it in a tiny house, bump into the brief zeitgiest of post punk do-it-yourself recording and almost accidentally do something sort of memorable along with a bunch of other people in a city normally not on anyone's musical map? Oh, alright. Such is the stuff of hindsight.
Boxing Day, Surry Hills, Sydney 1979. Musician Michael Tee and sound engineer Mitch Jones form Scattered Order.
Both were musical collaborators with The Barons. A complete culture and lifestyle in themselves, The Barons included Handsome Robert Joyce, Muz Paddison, Mark Tremlett, J. Milton Loveridge and Fred. It was a pivotal association: Jones and Tremlett met at Sydney College of the Arts; Tremlett and Tee flat-shared in Sydney's northern beaches; Fred became M Squared's landlord and never got round to finishing the reconstruction of their bathroom... but that was yet to happen.
Between April 1977 and September 1978, the Barons recorded an eccentric array of tracks, on which the still-beating heart of an eviscerated hammond organ provided distinctive rhythm sounds. Finally in 1979, with assistance from Tee and Jones, the self-titled "The Barons" EP was released on the Doublethink label, to outstanding indifference. But a small mass of people in Surry Hills, where Doublethink was operating, had begun to coalesce and lack of interest from the mainstream would only encourage them.
Scattered Order (a name arrived at by Mitch choosing the word 'scattered' and Michael countering with 'order'), initially comprised Tee and Jones wrangling guitars and any signal-altering devices they could get their hands on. Simon Vidale of The Numbers (Mitch's sound engineering 'day job') contributed their early and distinctive drum sound.
From there it was just a short stretch to setting up a permananet recording environment, shoe-horned into the tiny terrace house at 1 Wilshire Street, Surry Hills rented by Tee and Tremlett. A record label to release their own music seemed like a useful adjunct. They called it M Squared, its logo was provided by graphic designer Tremlett, and their modest motto was 'World Domination'.

Mitch Jones 1993
"Professional Deadball" Live Annandale Hotel, Sydney
Photo: Paul Williamson
Through Doublethink's Roger Grierson, Mitch and Michael were introduced to Patrick Gibson, who under the name The Systematics had recorded the quite extraordinary "Pulp Baby" at Sydney radio station 2JJ. Patrick, in possession of a very fine voice, a Roland synth and the ability to turn a Kenwood tapedeck into an entire recording studio, was quickly subsumed into the M Squared stew. The Systematics experienced a swift growth spurt, M Squared gained a third eye and Scattered Order found a perfect foil to their early guitar fascism.
Michael and Mark Tremlett moved house around this time, passing 1 Wilshire Street on to Mitch and Drusilla Johnson, who, like Mark Tremlett, had studied graphic design with Mitch at Sydney College of the Arts. Over the duration of the label, someone was always in residence there or, following a bit of empire building, in the adjoining No. 3. This belated security consciousness followed an early setback when the studio was stolen in its entirety. Though rebuilt with new equipment, the loss it had sustained contributed to M Squared's eventual financial downfall.
By day, M Squared functioned as first a 4-track and later as an 8-track recording studio. Its humble premises constantly pulsed with new inner city bands, who could record there for very little money. Engineering duties were shared between Michael, Patrick and Mitch under the collective alias of Scattered Order. By night, resources were directed at releasing material on the M Squared label, which achieved some early success and a growing profile through bands like the Systematics and The Makers of the Dead Travel Fast. This slowed down the output of Scattered Order to some degree. During the first year they managed only "Bent Up" on the sampler "Growing Pains", and "Teenage Romance" and "Violent 4" on the label's low budget cassette-only sampler "More Songs That Will Never be Released". Stylistically the band tended to shapeshift with each recording session, often determined by what equipment was overnighting in the studio. Vocals, if there were any, were a shared duty, and from the beginning more about texture than innate meaning. Experiments and accidents at the mixing desk, manipulation of tape, general knob-twiddling: these were the fun bits and pretty much the essence both of Scattered Order and the M Squared approach to studio recording.
In May 1981, M Squared released a 7 inch EP by Scattered Order, titled "Screaming Tree", containing 4 tracks. The track "I'm Not Whole" followed, on the second M Squared sampler "A Selection", in November 1981. In April 1981, the band finally lurched out of the studio to support the DTF who were launching their album "The Vessels" with The Systematics at Brownies, in Sydney's Paddington Green Hotel. For all three bands the move from studio to stage was probably light years away from their original intentions, which revolved around the endless possibilities of analogue recording. It certainly came as a surprise to Scattered Order that they could unleash an impressive live assault that might eclipse the sounds they could trap on vinyl.
"Boxed Brownies", M Squared's 1981 Christmas cassette release, is a snapshot of live performances by the Systematics, DTF, Splendid Mess and Scattered Order who, perhaps fearing a lack of sonic pencil lead, expanded their lineup by borrowing Michael Prowse and D. Craig Robertson (from underrated M Squared band Prod) and Michael Filewood from the Systematics.
After negotiations with the French label L'Invitation au Suicide, conducted on their part largely from a phone box in Le Havre, the double 10 inch EP "Entrave et Etouffement" was released in 1982. It contained tracks by Severed Heads, Systematics, The Limp, Splendid Mess, Pel Mel, as well as the Scattered Order songs "Bent Up", "Mass Murder" and "I'm Not Whole". A pressing of 4,500 was reported to have sold well, and a second pressing followed. Exporting the sound of Scattered Order to Europe — no problem. Contacting the Le Havre phone box — now strangely impossible. Nevertheless, this trans-hemispheric project remains indicative of the spirit of the times.
Meanwhile, in the way things tended to happen at Wilshire Street, Scattered Order now acquired the permanent drumming services of Michael Prowse, who had come to M Squared along with bass player D. Craig Robertson to further their combined musical project Prod. A significantly different drummer, Michael was able to produce the effect of an 18 storey high drumkit without any obvious effort.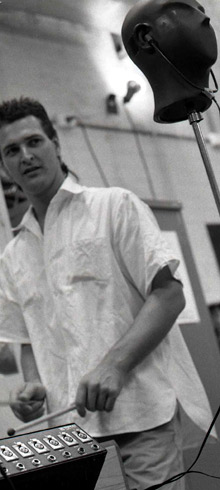 Michael Prowse 1984
Live to air 2MBS FM Sydney
In February 1982 M Squared toured several of its bands across three states in the Finally, Ultimately Tour. While in Brisbane Scattered Order recorded several tracks with Colin Bloxham at the 8-track Basement Studio. Along with other tracks recorded at M Squared and live on tour, "Prat Culture", a sort of combined LP and EP (33 1/3 one side, 45 the other), was mixed at M Squared and released in November 1982. The lineup was Jones, Tee, Gibson and Prowse.
Michael Tee and Patrick Gibson now began to turn their attention to Ya Ya Choral, after the demise of the Systematics, and following this loss, Scattered Order now gained Shane Fahey, from the DTF. Shane brought many things to the band: an impressive and growing knowledge of accoustic theory and sound synthesis, a godlike command of his enviable EMS and Arp synths, a zen-assisted temperament and Zircon, the first of several honourable canine associates of Scattered Order.
Scattered Order's next recording project was, ironically, the last M Squared release, in October 1983. Apart from one track taped in a city warehouse, it was recorded and mixed at M Squared, and bore the full title "I feel so relaxed with you... my spleen sometimes shows". The lineup was Jones, Prowse and Fahey, with some input from R. Scott Holmes (vocalist with The Same, yet another group associated with the label) and Drusilla Johnson (Height/Dismay). Although Scattered Order enjoyed critical approval, notably from the release of Prat Culture onwards, the band began to be categorised as difficult, serious or 'arty'. In an Australian pub rock context, 'artiness' was the kiss of death. Scattered Order, ever the jokers, became fond of the term 'builder's labourers of the avant garde', which was unlikely to endear them to Australian music promoters. Sales of "I Feel So Relaxed With You" were so woeful that Mitchell was seen handing out free copies outside the Trade Union Club to anyone who stopped.
"The best thing about Scattered Order is that beneath the anxiety, the ennui and the noise, they're really just fun-loving romantics with an obscure sense of humour."
— Rob Miller, On the Street 16 May 1984
Around this time Scattered Order began their longstanding association with Tim Whitten, whose live mixes and production of recordings proved to be an integral and definitive part of the band's sound, which incorporated 'found' audio on tape, sequencing, and bizarre signal processing.
Rhythmically the band was now at its peak through the addition of D. Craig Robertson, a bass player of such unparalleled funky rubberiness that Scattered Order had to learn to spell unparalleled. Craig had been honing his skills in danceability with the highly underrated Pel Mel, and the Prowse/Robertson combination made Scattered Order's 'difficult' sound rather more palatable to many ears. R. Scott Holmes and Drusilla Johnson both joined the band full time shortly after. Scott's immense enthusiasm and willing adaptability were to see him take on, over time, the diverse tasks of backing vocals, guitar, keyboard and percussion, while Dru continued to contribute lyrics and now added keyboards. With this combination in hand, they loaded up a truck with a fat PA and spent a steamy weekend in a disused chicken shed in Wakefield, outside of Newcastle, NSW.
This episode typefies the logic behind much of Scattered Order's music: to approach each project from a new angle to the last one; to use whatever equipment presents itself; and to keep overheads low. Scattered Order has always taken an inhouse approach to production — both an inherent strength and weakness. While never seeking to attain a particularly polished recorded sound, the band has never fully reproduced the power and chaos of their live performances. The Wakefield experiment, using a binaural microphone borrowed from The Reels to capture amplified sound, was a partial attempt to overcome this. Together with some live tracks from The Musicians Club in Sydney this material became the album "A Dancing Foot and a Praying Knee Don't Belong on the Same Leg", guaranteed to get press for its name alone. But it was still 'difficult music'.
A Dancing Foot was the first release on the newly created Volition label. Founded by Andrew Penhallow, Volition was a vehicle for breaking new ground after the success of Gap Records, a label dedicated in part to the promotion in Australia of Factory recording artists, such as Joy Division and New Order. Volition also became the new home of Severed Heads, whose Terse label had in some ways parallelled the development of M Squared.

DC Robertson, Mitch Jones 1990
"Professional Deadball" Recording
Following the release of "A Dancing Foot", Shane Fahey made what ominously became known in the band as 'an announcement', and thereby departed to further his studies in sound theory. The lineup of Jones, Prowse, Robertson, Holmes, Jones (nee Johnson) now embarked on a new course, or as the critics put it, 'discovered melody'.
For a short while Scattered Order's live lineup included the spectacle of two drummers, through the addition of Dave Weston, from Pel Mel and The Limp. A memorable and funk-driven drummer, Dave's distinguished ability as a joke teller did much to alleviate the gloom engendered by rehearsing in a concrete vault in Redfern, and the band embarked on a short burst of live shows, including tour dates supporting The Go-Betweens.
Demoed (a new concept in itself) at M Squared, "Career of The Silly Thing" was recorded the following year at Electric Avenue in Balmain, Sydney, around the corner from Mitch and Dru's old art school. "Career" contained the band's first attempts to incorporate conventional song structures into their music, but was offset by an increasing use of found sounds. It appeared to be an acceptable combination, and was licensed to Ink Records in the UK.
"Career" emphasises the 'two camps' dilemma with which the band now began to struggle. Essentially a problem of the musicians versus the non-musicians, it was an argument that should have stayed irrelevant to Scattered Order, but instead became central to its new musical direction. Although the band had been founded on the concept of unlimited experimentation, it was now entering a period that placed heavy burdens on the 'nons' to focus more on musicianship. Ironically, the band found a ready audience for the new material and was more frequently visible live. The Scattered Order of 1984-88 supported overseas bands New Order and The Residents, and were frequent guests of Ed Kuepper, for whom Mitch was longstanding sound engineer.
Despite being only one of the band's musical weak points, Scott was eventually asked to make his 'announcement'. He did so with alarming good grace, shortly after the entrance of (the unrelated) Geoff Holmes, whose guitar credentials included early membership of the legendary Sydney band X, coincidentally the first band Mitch had ever mixed. Somehow forcing his ecstatic rockabilly guitar through the holes in the band's electronic fabric, Geoff's song writing sent Scattered Order further down the new road.
"Scattered Order approach pop like aggro garbagemen fed on a diet of Stephen King horror stories and bad Dave Allen jokes." – Mark Mordue, RAM 23 September 1987
1987 saw the sixth Scattered Order release, a 12 inch EP of 4 tracks, two with Scott, and two with Geoff. Both Shane Fahey and Tim Whitten performed recording and mixing duties on the two sessions at Electric Avenue. "Selling the Axe to Buy the Wood", a title born of the band's inner frustrations, both musical and financial, bears traces of the perennial Scattered Order search for new ways to stretch itself, but also has the indelible stamp of compromise. Despite this, the track "Loose in the House" brought the band some radio airplay notoriety, and they began work on new songs.
Shortly after, Michael Prowse put forward his own 'announcement' as he embarked on the pursuit of a law career. Craig took on the task of translating an essential part of Scattered Order into the unforgiving digital regime of a drum machine. As 1988 began to unfold, Scattered Order was again in the studio, this time CBS (later Sony). As an antedote to the drum machine, drummers Rob Souter and Greg Fitzgerald assisted in the recording. Greg, along with his coffee machine, came on board for the ensuing tour to promote the album.
In fact a double album, "Comfort" contained eight tracks from the glorious past and eight for the uncertain future. A comparison of the two discs is a sobering experience. The early work contains an enigmatic quality and power achieved with seeming ease, while highlighting the ever present and key element of tension in the band's music. The new tracks strain hard to do the same sonic work through a mesh of careful arrangements that threatens to eclipse the whole project. In contrast, the promotional tour for "Comfort" produced some of Scattered Order's most dynamic performances, the lush production offset by that characteristic nervy edge that set the band apart.
Over time, it became increasingly difficult to find suitable bills and venues, and the band's steadfast disregard for categorisation made them something of a nightmare to promote and market in a country short on acceptance of anything outside the norm. The result was a four-year withdrawal from live work, but tellingly, the seeds of Scattered Order's renaissance were just being sewn.

Tim Whitten 1993
"Asleep in the Knife Drawer" Recording
From out of Mitch and Dru's cupboard came the beast that had been perplexing them for some time: an Ensoniq sampling keyboard. Always able to draw great sounds from their assortment of analogue machines, the advent of digital sampling seemed to just be a more complicated way of using cassettes as they had always done. Given time to explore the process, however, they happily began to subvert its uses, quickly adding an Akai sampler to the rack.
Their steadfast embrace of sampling technology finally appeared in CD form on "Professional Dead Ball". An album of extreme density and layering of sound, it was Tim Whitten's task to pull the band back from the brink of noise overload. "Dead Ball" also represents the band's freedom from the tyranny of expensive recording options, and along with that, an end to the long wait to put ideas onto tape. It did not, however, reduce the gap between releases. "Dead Ball" was not released until 1991, and Scattered Order had by now begun to exhaust Volition's ability to find a key to their successful promotion. Although a Tom Ellard (Severed Heads) remix of the "Dead Ball" track "Sheer" appeared on their 1992 dance compilation "High", Scattered Order failed to engage further interest from Volition.
In 1992 the band began a new project involving empathetic drummer Mark Dawson, known for his flawless work with Ed Kuepper. Completed and unreleased for five years, "Asleep in the Knife Drawer" was a direct musical decendant of "Dead Ball", and possibly the final chapter in the rock'n'roll version of Scattered Order. In 1997, through the kind intervention and considerable effort of Tom Ellard, "Knife Drawer" was for a time available as a Sevcom handmade release, but is now again unavailable.
April 1992 and February 1993 saw the only two live appearances of the band since the 1988 shows, and some time after this, Geoff Holmes made his departure. Work on new songs went forward in 1995, the band enlisting Brisbane-based guitarist Brian Mann, (Ed Kuepper, Lime Spiders, Kcrunch) and Mark Dawson in the early stages of the project. Sadly, a lack of impetus brought about in part through geographical distance made progress difficult. The thwarted release of "Knife Drawer" added to the band's feeling of inertia.
1996 saw Mitch and Dru drawing together the threads of some unrecorded songs with new ones in a burst of activity at Clothwork Productions, a studio facility put together by Matt Crosbie, a long time sound engineering associate, and Suzie Higgie, of old Volition labelmate The Falling Joys. Invaluable guitar assistance from wry but affable Paul Doherty (The Johnnys) brought a new element to the sound. Mark Dawson, Brian Mann and Craig Robertson appeared via long distance digital collaboration.
The resultant nine songs, mixed by Tim Whitten, became the 1997 CD "Chicken Hilton". In a return to the spirit of M Squared, Scattered Order once again became owners of their own recording destiny by setting up the label Rather be Vinyl. The launch of Chicken Hilton saw the Scats back on stage after a long absence, with Paul Doherty, now a member, adding his towering, melancholic guitar.
1997 also brought the first performance of Lint, an ambient collaboration between Tim Whitten and the Joneses.
With reasserted vigour, the band released the cassette "Free Sandy Nelson/Brother Number 1" early in 1998, as a between-albums snapshot, before beginning work on "Pretty Boffins". The sound was again shifting, to dark and dubby ground. Performances in 1998 included Scat's first Melbourne shows in 10 years.
Production on "Pretty Boffins" was completed in 1999 with release the following year. The band did not perform live in '99, although Lint made an appearance with colleagues The Loop Orchestra, (subsequently released as "Live at the Room", Bake Records through Staalplat, 2002). Partly through a lack in the Rather Be Vinyl marketing machine, and partly because the band, by now, had spent too long at the unfashionable end of the proverbial bargepole, the accomplishments of "Pretty Boffins" remain unacknowledged. In many ways, it's the kind of album the old, M Squared-era Scattered Order would have killed to make, but lacked the experience.

DC Robertson, Geoff Holmes 1993
"Professional Deadball" Live Annandale Hotel, Sydney
Photo: Paul Williamson
In 2002 a sort of unintentional hiatus overtook Scattered Order, beginning when Mitch and Dru relocated to Wales for a couple of years. Though now into its fourth decade, it seemed that the band's appeal no longer extended beyond the home studio door. Meanwhile, a small groundswell of interest began to build around what is now termed "post punk" music, including the sounds that had emanated from Sydney around 1978-1982.
In 2007, a Scattered Order track found its way onto Australian label Chapter Music's post punk compilation "Can't Stop It 2". The momentum continued in 2009 with "Pardon me for barging in like this", a five LP boxed set of rare M Squared tracks released in Germany by Vinyl on Demand, and "Prat Culture Plus", an augmented CD reissue of Scattered Order's first two releases by Austrian label Klanggalerie.
With Mitch Jones and Michael Tee, Scattered Order's two founding members, now both in the same room after 25 years, discussion inevitably turned to making music together. The outcome is Scattered Order Mk1, Jones and Tee once again crashing through delicate genre barriers en route to the landscape of sound in their heads. A live snapshot of their first performance together was captured on "SO", a CDr released by Rather Be Vinyl in September 2009.
In January 2010, Scattered Order Mk1 was part of "Wilshire Street Noise", a unique event in Sydney celebrating the musical connections made during the short run of the M Squared label, with a bill that mirrored the intensity, enthusiasm and variety of the old M Squared Tinkily Bonk Ball shows. "Wilshire Street Noise" marked the launch of "Terrace Industry", a 4CD box containing 81 tracks from the M Squared catalogue, released by Australia's Ascension Records, and coincided with their involvement in "Circa 1979: Signal to Noise", a fringe event of the 2010 Sydney Festival.
With the renewed availability of much of their early material, Scattered Order seems to have finally achieved a small level of affirmation for their approach to making music. Their inclusion (as Scattered Order Mk1) on the download-only New Weird Australia Volume 4 in January 2010 indicates that the latest material is finding a new audience. While their methodology might have changed, they still hold to the premises they began with: make something that entertains you, keep searching for new ways to do it with whatever technology is to hand and don't waste time trying to classify it. As Scattered Order, once again with Craig on bass, nears completion of new recordings, they remain optimistic that the future is a soundscape worth listening to.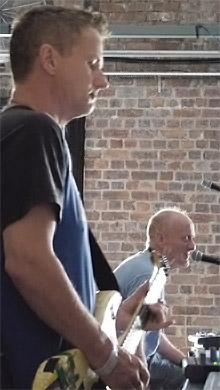 Michael Tee and Mitch Jones 2010
Wilshire Street Noise soundcheck